SCL Online Screening + Q&A: SPACE FORCE
June 9, 2020
|
6:30pm PDT
|
Screening
SCL Online Screening + Q&A: SPACE FORCE w/Carter Burwell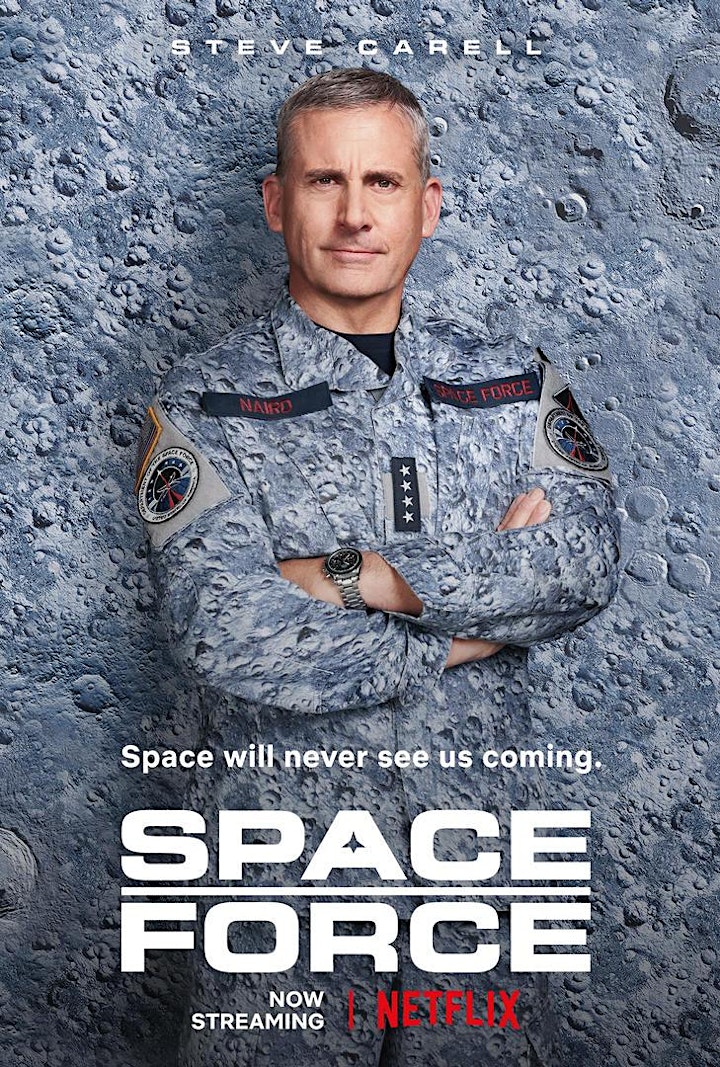 Composer
CARTER BURWELL
MODERATED BY JOHN HORN
Host, KPCC's The Frame
Screening Link available upon Registration
YouTube Live Stream Q&A:
TUESDAY, JUNE 9, 6:30PM (PDT)
CLICK
HERE
TO ATTEND EVENT
A decorated pilot with dreams of running the Air Force, four-star general Mark R. Naird (Steve Carell) is thrown for a loop when he finds himself tapped to lead the newly formed sixth branch of the US Armed Forces: Space Force. Skeptical but dedicated, Mark uproots his family and moves to a remote base in Colorado where he and a colorful team of scientists and "Spacemen" are tasked by the White House with getting American boots on the moon (again) in a hurry and achieving total space dominance. From co-creators Carell and Greg Daniels (The Office), SPACE FORCE is a new kind of workplace comedy, where the stakes are sky-high and the ambitions even higher. John Malkovich, Diana Silvers, Tawny Newsome, Ben Schwartz also star, alongside co-stars Lisa Kudrow, Jimmy O. Yang, Noah Emmerich, Alex Sparrow, and Don Lake. Howard Klein/3Arts (The Office) serves as executive producer, with Daniels as showrunner. TV-MA | 30 min
Carter Burwell has composed the music for a long list of films, TV, and theatre, including Blood Simple, Raising Arizona, Miller's Crossing, Barton Fink, The Hudsucker Proxy, Rob Roy, Fargo, The Spanish Prisoner, Gods and Monsters, Velvet Goldmine, Three Kings, Being John Malkovich, O Brother, Where Art Thou? (BAFTA Nominee for Film Music), Before Night Falls, A Knight's Tale, The Rookie, Adaptation., Intolerable Cruelty, No Country for Old Men, In Bruges, Burn After Reading, Twilight, Where the Wild Things Are (Golden Globe Nominee for Best Original Score), A Serious Man, The Blind Side, The Kids Are All Right, True Grit, Twilight: Breaking Dawn – Part 1 & 2, Mr. Holmes, Legend and Anomalisa, Hail, Caesar!, The Founder, Wonderstruck, The Ballad of BusterScruggs, Missing Link, The Good Liar, The Morning Show, Anomalisa, Velvet Goldmine, Mildred Pierce, Goodbye Christopher Robin, The Celestial Alphabet Event, Mother, Lucia's Chapters of Coming Forth by Day, Three Billboards Outside Ebbing, Missouri (for which we received an Oscar and Golden Globe Award nomination), and Carol (which he received his first Oscar nomination for Best Original Score).
Burwell has taught and lectured at The Sundance Institute, New York University, Columbia University, and Harvard University.
He was honored as an SCL Ambassador in December 2012, in New York.
*** IMPORTANT – PLEASE READ ***
FREE for current SCL members (click HERE to check membership status).
Attendees will be emailed a Screening Link upon RSVP and a Q&A YouTube Live Stream link on Wednesday, May 27, 10 minutes before Q&A start.
Only the SCL Host, Moderator, and Panelists will be visible on screen.
Attendees can ask questions on YouTube chat, and the SCL Host will pass them on to the Moderator. The SCL Member Code of Conduct applies to online Q&As.