SCL Online Screening + Q&A: NIKKI FRE$H w/Nicole Richie and Sarah Hudson
September 29, 2020
|
12:30pm PDT
|
Screening + Q&A
SCL Online Screening + Q&A: NIKKI FRE$H w/Nicole Richie and Sarah Hudson, moderated by Nina Corcoran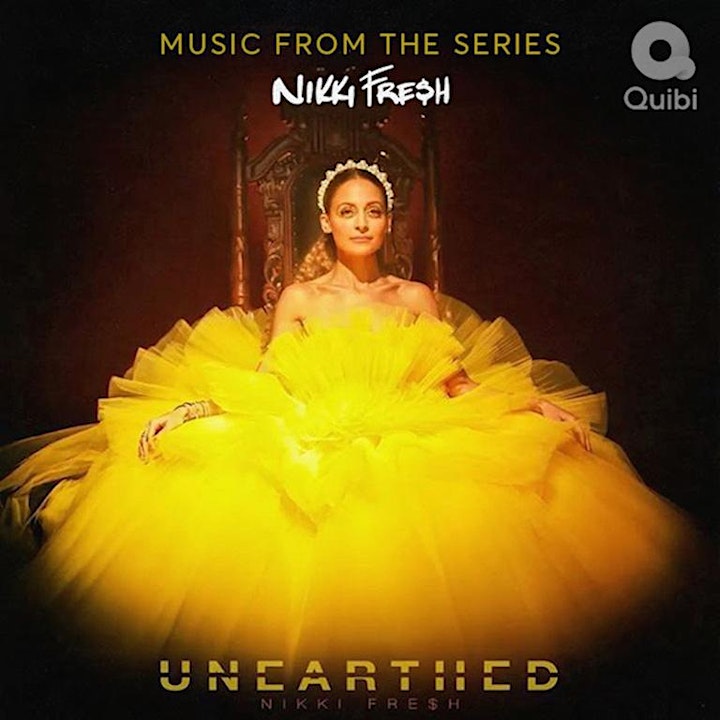 Executive Producer, Star, and Co-Songwriter
NICOLE RICHIE AKA NIKKI FRE$H
Co-Songwriter
SARAH HUDSON
MODERATED BY NINA CORCORAN
Contributor: Pitchfork, NPR, Vulture 
Show Episodes Link available upon Registration
YouTube Live Stream Q&A :
Tuesday, September 29, 12:30PM (PDT)
Actress, creative director, entrepreneur, writer, producer, and now parent trap artist Nicole Richie, aka 'Nikki Fre$h', is executive producer and star of Quibi's Nikki Fre$h, released on the new mobile streaming platform in April and renewed for a season 2. Nikki Fre$h unites Richie's passions for mother earth and hip hop into her eponymous alter ego, Nikki Fre$h. Nikki brings a new voice to wellness – dropping socially conscious and educational rhymes on the world. She interacts with real-life seekers and consciousness experts to learn ways to better serve our bodies and planet – while comedically exaggerating those solutions to the edge of sanity.  TV-14 | 10min
Nicole Richie, aka 'Nikki Fre$h' recently released her debut comedy album from the series, Unearthed. The album consists of six "voicemail skits" and seven tracks that Richie co-wrote, along with celebrated songwriters Sarah Hudson (Dua Lipa, Katy Perry, Justin Bieber) and her husband Joel Madden (Good Charlotte). Listen to the album HERE. 
Nicole Richie was born and raised in Los Angeles surrounded by art, music, and costumes, fostering her artistic expression in many forms. Having developed an appreciation for fashion at an early age, Richie created the House of Harlow 1960 collection for which she serves as Creative Director. 
Richie partnered with Telepictures Productions in 2013 to bring her unfiltered sense of humor and unique perspective to life in an AOL web series called #CandidlyNicole. The hit web series based on her Twitter feed has garnered over 25 million views. VH1 picked it up and turned it into a weekly television series in which Nicole served as an executive producer. The show followed Nicole as she shared her perspective on style, parenting, relationships, and journey to adulthood in the scripted, faux-reality format. Her other TV credits include guest appearances on NBC's Chuck and Bravo's Project Runway. Her film credits include a cameo appearance in Wes Craven's Cursed and a role in the feature film Kids in America. 
Sarah Hudson is a female topliner/vocal producer best known for co-writing Katy Perry's "Dark Horse" ft. Juicy J. Hudson also co-wrote nine songs on Katy Perry's Witness, including her single "Swish Swish". Other cuts include the current Alternative hit "Good Things Fall Apart" ft. Jon Bellion by Illenium, "Something's Gotta Give" by Camila Cabello, "Black Widow" ft. Rita Ora by Iggy Azalea, "Two F*cks" by Adam Lambert, and "Get On Your Knees (Beg For It)" ft. Ariana Grande by Nicki Minaj. She also has cuts with Justin Bieber ("The Feeling" ft. Halsey), 5 Seconds of Summer ("San Francisco"), Years & Years ("Palo Santo" & "Karma"), Idina Menzel ("Queen of Swords"), Santigold ("Banshee"), The Neighbourhood ("Dust", "Heaven", & "Blue"), Charli XCX ("Baby Girl"), and New Kids on the Block ("Thankful").
A diverse songwriter with a unique approach to several genres, Hudson is known for her unique signature concepts, edgy lyrics, and catchy pop melodies. She has penned much of the recent Dua Lipa album Future Nostalgia, including the hit singles "Physical" and remix track "Levitating" feat. Madonna and Missy Elliot . Sarah worked on Katy Perry's single "What Makes A Woman" from the recent album Smile, and continues to work with established and up-and-coming artists. Most recently, Hudson co-wrote the featured tracks for the Quibi series Nikki Fre$h with Nicole Richie and Joel Madden.
Hudson understands the mind of the artist and is not afraid to be different and daring in her approach to songwriting. She uses her experiences in life, love, and music to bring new and unique perspectives to every song she writes.
*** IMPORTANT – PLEASE READ ***
FREE for current SCL members (click HERE to check membership status).
Attendees will be emailed a Screening Link upon Registration and a Q&A YouTube Live Stream link on Tuesday, September 29, 10 minutes before Q&A start.
Attendees can ask questions on YouTube chat, and the SCL Host will pass them on to the Moderator. The SCL Member Code of Conduct applies to online Q&As.