SCL Screening + Q&A: DICKINSON w/Drum & Lace and Ian Hulquist
June 29, 2020
|
6:30pm PDT
|
Screening + Q&A
Composers
DRUM & LACE
 IAN HULTQUIST
MODERATED BY BRITT HENNEMUTH
Vanity Fair
Screening Link Instructions Provided Upon Registration
YouTube Live Stream Q&A :
Monday, June 29 – 6:30PM (PDT)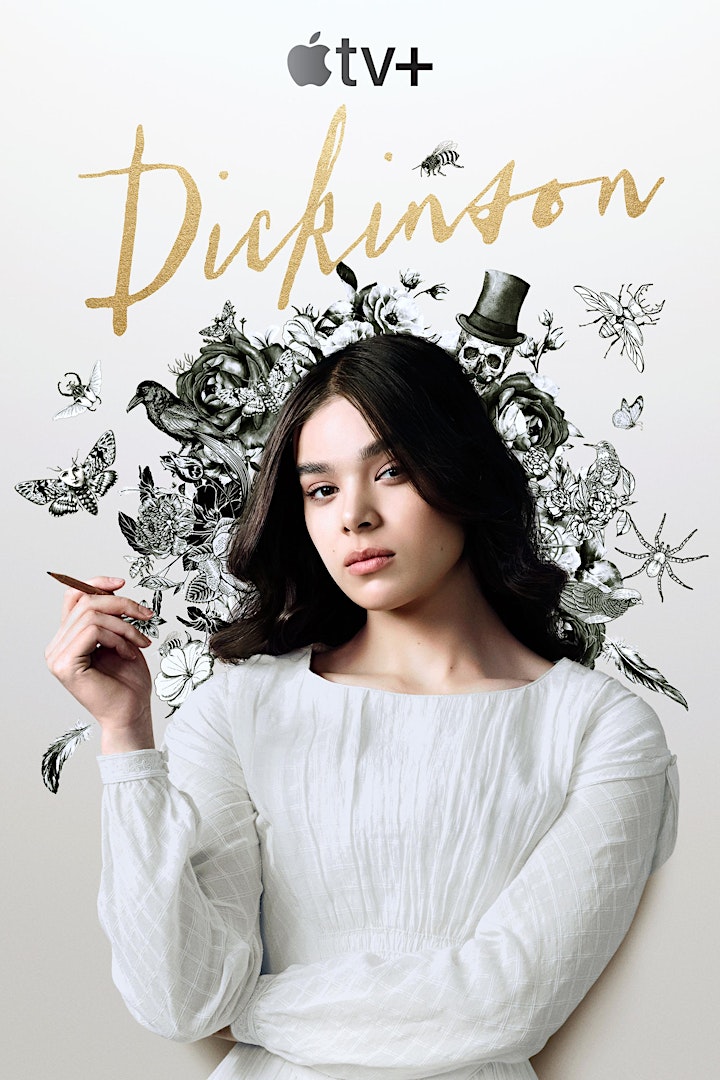 Dickinson is a half-hour comedy series that audaciously explores the constraints of society, gender, and family from the perspective of rebellious young poet Emily Dickinson. Set in the 19th century, the series is a coming-of-age story that finds Emily to be the unexpected hero for our millennial generation. TV-14 | 30min
Drum & Lace is an Italian composer, sound artist, and performer that writes and creates music for film and media. Raised in Florence, Italy she received her Undergraduate Degree from Berklee College of Music (Film Scoring & Composition) and a Masters Degree (Music Technology & Composition) from New York University. Inspired by interesting sounds and cinematic elements, Drum & Lace melds together sampled field recordings and lush layers of synths to create densely textural and beat-heavy music, greatly drawing from film music, music concrete, and modern electronica. Her ambient and chamber work also gathers great inspiration from nature and natural sounds, as well as the juxtaposition of unlikely sounds with one another.
Her composition work includes writing for film, TV, dance, theater, fashion, and commercials. Her feature-length film scoring credits include fashion documentary The First Monday in May, HBO documentary At The Heart of Gold- Inside the USA Gymnastics Scandal, upcoming noir-thriller Deadly Illusions, and the documentary The Penny Black. Television credits include AppleTV+ Original Series Dickinson and season 3 of NBC series Good Girls. Notable other composition projects include music for NARS, Always, Tanya Taylor, Girls Who Code, and Squarespace as well as ongoing collaborations with theatrical production company Saudade Theatre and Heidi Duckler Dance. Her 2020 releases include Further EP, a new work composed for contemporary dance that features field recordings, electronics, and strings performed by the London Contemporary Orchestra (LCO). Further will be out June 5, 2020, on Little Twig Records.
Ian Hultquist is an American composer and producer based in Los Angeles, CA. Over the past few years, he has made a name for himself composing the scores for numerous films, documentaries, and TV shows. Ian started his career in music as a founding member of the band Passion Pit, which started in Boston where he was studying Film Scoring at Berklee College of Music. He spent many years touring around the world & honing in his production skills as a Music Director and working on remixes for artists such as Portugal the Man, Imagine Dragons, Tegan & Sara and OK GO. In 2014 he, along with his wife & fellow composer Sofia Hultquist (aka Drum & Lace), relocated to Los Angeles in order to fully dedicate himself to working in music for film.
In 2018, Ian had four feature films released theatrically including Love & Bananas: An Elephant Story, The Gospel According to André, A-X-L, and Assassination Nation. Other recent projects include Yes, God, Yes, I Love You, Now Die: The Commonwealth v. Michelle Carter, Tricky Dick, At the Heart of Gold: Inside the USA Gymnastics Scandal, Los Ultimos, the Netflix horror film Rattlesnake, Apple TV+ series Dickinson (co-scored with Drum & Lace), After Truth: Disinformation and the Cost of Fake News, How to Fix a Drug Scandal, and season 3 of NBC's Good Girls (co-scored with Drum & Lace). Hultquist is preparing to reunite with Collin Schiffli on his new feature Die in a Gunfight.
*** IMPORTANT – PLEASE READ ***
– FREE for current SCL members (click HERE to check membership status).
– Attendees will receive Screening instructions upon Registration and a Q&A YouTube Live Stream link on Monday, June 29, 10 minutes before Q&A start.
– Only the SCL Host, Moderator, and Panelists will be visible on screen.
– Attendees can ask questions on YouTube chat, and the SCL Host will pass them on to the Moderator. The SCL Member Code of Conduct applies to online Q&As.