SCL Online Screening + Q&A: JINGLE JANGLE: A CHRISTMAS JOURNEY
November 23, 2020
|
6:30pm PST
|
Screening + Q&A
SCL Screening + Q&A: JINGLE JANGLE w/John Debney, Philip Lawrence, Davy Nathan, Harvey Mason Jr. & David Talber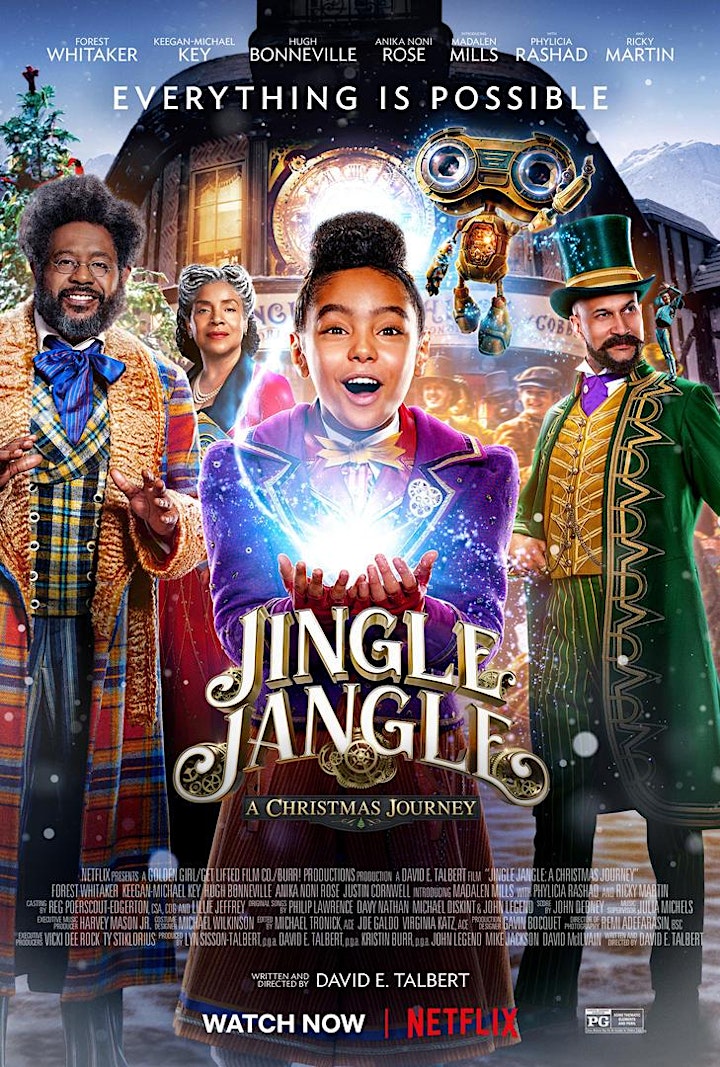 Q&A with
Composer
JOHN DEBNEY
Songwriters
PHILIP LAWRENCE & DAVY NATHAN
Executive Music Producer
HARVEY MASON JR.
Director
DAVID TALBERT
Moderated by JON BURLINGAME (Variety)
Screening Link provided with Registration Confirmation
YouTube Live Stream Q&A:
MONDAY, NOVEMBER 23 – 6:30PM PT
A musical adventure and a visual spectacle for the ages, Jingle Jangle: A Christmas Journey is a wholly fresh and spirited family holiday event. Set in the gloriously vibrant town of Cobbleton, the film follows legendary toymaker Jeronicus Jangle (Academy Award winner Forest Whitaker) whose fanciful inventions burst with whimsy and wonder. But when his trusted apprentice (Emmy winner Keegan-Michael Key) steals his most prized creation, it's up to his equally bright and inventive granddaughter (newcomer Madalen Mills) – and a long-forgotten invention – to heal old wounds and reawaken the magic within.
From the imagination of writer-director David E. Talbert and featuring original songs by John Legend, Philip Lawrence, Davy Nathan, and "This Day" performed by Usher and Kiana Ledé, Jingle Jangle: A Christmas Journey reminds us of the strength of family and the power of possibility. PG | 122 minutes 
John Debney is the ultimate film music character actor. In equal demand for family films such as Elf and adventure films like Iron Man, to the powerful and poignant The Passion of the Christ, for which he received an Oscar nomination for Best Original Score. Debney is an agile jack-of-all-genres, composing for comedies (Bruce Almighty), sci-fi action (Predators), horror (Dream House), and romance (Valentine's Day) with the same confidence and panache. Debney is also known for his work in such films as Princess Diaries, Sin City, Liar Liar, Spy Kids, No Strings Attached, The Emperor's New Groove, I Know What You Did Last Summer, Hocus Pocus, The Jungle Book, Ice Age: Collision Course, and The Greatest Showman. Debney's most recent films include The Beach Bum, Dora and the Lost City of Gold, Isn't It Romantic, and Jingle Jangle: A Christmas Journey. Upcoming for Debney is Come Away directed by Brenda Chapman and starring Angelina Jolie. 
Born in Glendale, California, Debney's professional life began after he studied composition at the California Institute of the Arts when he went to work writing music and orchestrating for Disney Studios and various television series. He won his first Emmy in 1990 for the main theme for The Young Riders, and his career soon hit a gallop. Since then he has won three more Emmys and received nominations for a total of six. His foray into video game scoring – 2007's Lair  – resulted in a BAFTA nomination and a Best Video Game Score award from The International Film Music Critics Association. 
Eight-time Grammy Award winner Philip Lawrence is best known for his long-time partnership with Bruno Mars as his co-producer and co-writer. The son of a gospel choir director, he has been performing since the age of four and writing songs since his early teens. He currently runs his own label, CMNTY Records, operating out of Los Angeles' historic recording studio The Record Plant, which he purchased in 2016. After his decades of stage performance including touring with Bruno Mars and two Superbowl Halftime shows, he has moved his talents onscreen and will next be seen in the Netflix Christmas feature Jingle Jangle: A Christmas Journey. Not surprisingly, he's an incredibly talented voice performer as well; you can hear him as the voice of Felipe in Rio 2 and the upcoming musical version of Rango.
Davy Nathan is a songwriter, producer, pianist, and musical director, whose work was considered for a Grammy in 2017. As a producer and songwriter, he's worked with Rodney "Darkchild" Jerkins, Toni Braxton, Philip Lawrence (Bruno Mars), Mary J Blige, Jennifer Hudson, Robin Thicke, Tamar Braxton, Kenny "Babyface' Edmonds, Queen Latifah, Daya, Eric Benet, and others. As a pianist and musical director, he's toured the world with Christina Aguilera, Toni Braxton, Patti Labelle, Kenny "Babyface' Edmonds, Colbie Caillat, Natasha Bedingfield, Nicole Scherzinger, TLC, Sean Kingston, Brian McKnight, Jason Derulo, NKOTB, and others. Along with Philip Lawrence and Michael Diskint, Davy is a songwriter on Jingle Jangle: A Christmas Journey and co-produced the music with Philip Lawrence and Harvey Mason Jr.
Harvey Mason Jr. has not only penned and produced songs for industry legends like Aretha Franklin, Michael Jackson, Whitney Houston, and Elton John, but also for today's superstars including Justin Bieber, Beyonce, John Legend, Britney Spears, Ariana Grande, Justin Timberlake, and Chris Brown. In addition, he has compiled aN impressive list of film and TV music credits including writing/producing the music for Jesus Christ Superstar Live!, Sing, The Wiz Live!, Straight Outta Compton, all three Pitch Perfect films, Dreamgirls, Get On Up, Zoey's Extraordinary Playlist, and Shrek, to name a few. 
Harvey is also currently producing music-based film and TV projects, including the highly anticipated Aretha Franklin biopic Respect. He serves as interim President/CEO of the Recording Academy and Chairman of the Recording Academy. He is also a member of the Board of Trustees for his Alma mater, the University of Arizona.
An imaginative auteur breaking boundaries with his sensational and acclaimed works in theater, film, and literature, David E. Talbert is a brilliant force in the entertainment industry. Talbert is heralded as one of the most prolific theater-makers in America. He has written and produced 14 national tours, breaking box office records and capturing the hearts of audiences around the world. Talbert has garnered 24 NAACP nominations in which he won Best Playwright of the Year for The Fabric of a Man, and has won the NAACP Trailblazer Award for his contributions and accomplishments in theatre. He has also received the New York Literary Award for Best Playwright of the Year for his musical, Love in the Nick of Tyme. His impressive list of blockbuster national tours also includes his most recent giant, What My Husband Doesn't Know, starring Morris Chestnut.
In 2008, Talbert made his feature film directorial debut with the comedy First Sunday, starring Ice Cube, Tracy Morgan, and Katt Williams. He went on to direct Baggage Claim, which marked one of the few times a filmmaker had adapted and directed his own novel. In 2016, Talbert wrote and directed the holiday film, Almost Christmas with an all-star cast including Danny Glover, Gabrielle Union, and Academy Award winner Mo'Nique. The film became the highest-grossing and most critically acclaimed theatrical release of Talbert's career. All three of his feature films have debuted as the #1 Comedy in America. Talbert most recently wrote, directed, and produced Jingle Jangle: A Christmas Journey, Netflix's first original live-action musical. 
*** IMPORTANT – PLEASE READ ***
FREE for current SCL members (click HERE to check membership status).
Attendees will be emailed a Screening Link upon Registration and a Q&A YouTube Live Stream link on Monday, November 23, 10 minutes before Q&A start.
Attendees can ask questions on YouTube chat, and the SCL Host will pass them on to the Moderator. The SCL Member Code of Conduct applies to online Q&As.