DAVE GRUSIN: NOT ENOUGH TIME
October 15, 2020
|
6:30pm PDT
|
Screening + Q&A
SCL Screening + Q&A: DAVE GRUSIN: NOT ENOUGH TIME w/Dave Grusin & Barbara Bentree, moderated by SCL President, Ashley Irwin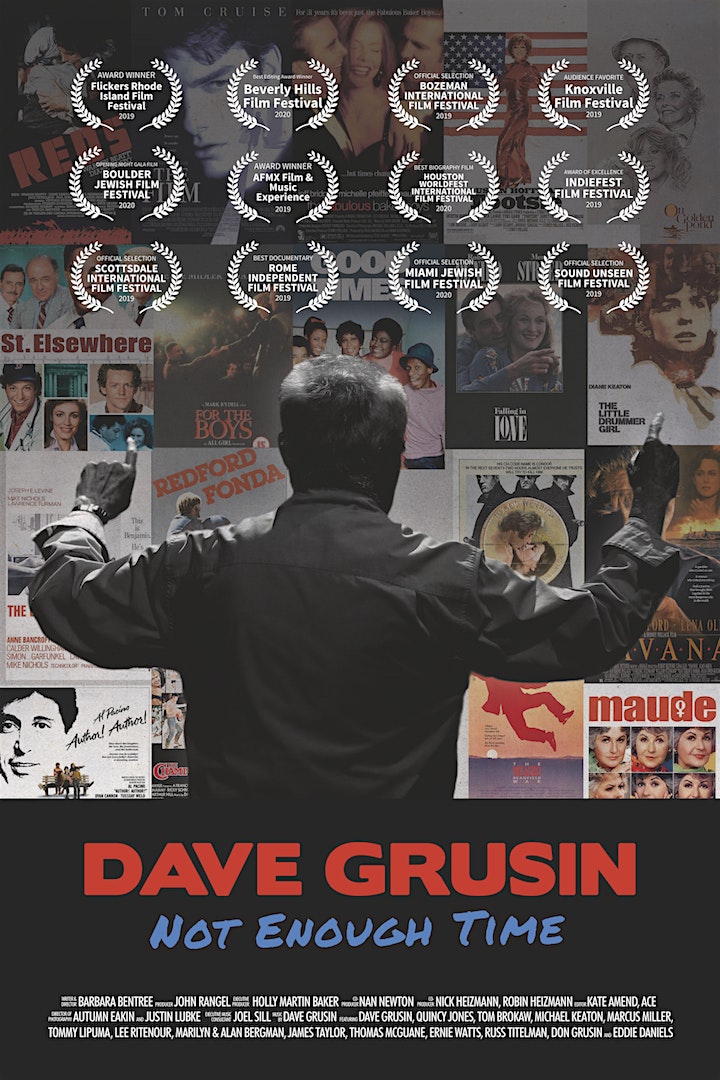 Composer & SCL Ambassador
DAVE GRUSIN
Director
BARBARA BENTREE
MODERATED BY ASHLEY IRWIN
SCL President
Film Link available upon Registration
YouTube Live Stream Q&A :
THURSDAY, OCTOBER 15, 6:30PM (PDT)
Dave Grusin: Not Enough Time traces the life and legendary career of composer, arranger, performer, and record company executive Dave Grusin. The documentary includes interviews with Dave and over thirty contemporaries, including Tom Brokaw, Quincy Jones, Michael Keaton, Marcus Miller, Carl Hiaasen and Thomas McGuane. Beyond the intimate stories, the film features rare archival videos and photos, and was produced in full cooperation with the Grusin family. Millions of people know the music of Dave Grusin, but many have no idea about the degree of output, variety of projects, and unparalleled admiration and respect that he commands. But above all things, Dave is the most humble person you will ever meet.
Dave Grusin: Not Enough Time is directed and produced by jazz musicians Barbara Bentree and John Rangel. Unlike most documentary teams, the duo pride themselves on being "musicians making films about musicians." PG | 90 min
Dave Grusin is regarded as one of the 20th Century's most important composers. Millions of people worldwide know and love his music, but even his most ardent fans may not realize the full extent of Dave's phenomenal career. Grusin has been described as "flawless" by his peers over five simultaneous professions: composer, pianist, arranger, performer, and record company executive. Dave lead a bi-coastal life for decades, flying weekly between Los Angeles and New York to work with an astounding list of music and film artists. Industry icons called on him when they needed something extraordinary: Barbra Streisand, Steven Spielberg, Quincy Jones, Norman Lear, Sydney Pollack, Warren Beatty, James Taylor, Paul Simon, Renée Fleming, Andy Williams, Sarah Vaughn, Al Jarreau, Carmen McRae, Phil Ramone, Marilyn & Alan Bergman, Sergio Mendes, Billy Joel, Judy Collins, Peggy Lee, Chaka Khan and Nancy Wilson to name only a few.
Taking a huge leap of faith by co-founding GRP Records with his partner Larry Rosen, Dave created the first record label to go all-digital at a time when the others were afraid to change. Against the odds, GRP became the highest-selling Jazz label for 5 consecutive years.
Frequently honored by his peers, Dave holds 8 Academy Award nominations (winning in 1988 for The Milagro Beanfield War ), 80 Grammy Award nominations with GRP Records, 38 personal Grammy nominations, 4 Golden Globe nominations, 1 Emmy Award nomination and 3 Honorary Doctorates. Grusin's most enduring legacy may live on in his beloved melodies and arrangements for film. The themes for movies such as On Golden Pond, The Firm, The Fabulous Baker Boys, Havana, Tootsie, Heaven Can Wait, and Three Days of the Condor are featured in textbooks, and revered by generations of composers.
Dave Grusin was honored as an SCL Ambassador in December 2007.
Dave Grusin: Not Enough Time is the directorial debut of Barbara Bentree. Audiences have wondered, how did Barbara manage to gather an Academy Award-winning production team for her first major documentary? Barbara was relentless in seeking the best talent for the film. In her mind, the quality of the story had to reflect the extraordinary beauty of Dave's music. Barbara started out as an award-winning vocalist and musician, and has now added "award-winning director" to her resumé. Barbara also served as music supervisor for the film.
This documentary is not only a tribute to the extraordinary life and career of Mr. Grusin, it depicts the "golden age" of television and film music. All Bentree's film work has a predominance of nature. Having grown up in rural Minnesota, she is inspired to use the lens of the natural world to enhance her stories. Most importantly, Bentree is committed to telling stories that make a positive impact.
"I work to use as many women in my productions as possible because I absolutely know that women bring a different sensibility and perspective to filmmaking. I am a filmmaker that wants to bring light and inspiration to the world. Music brings people together and we are all searching for a way to connect to each other. Our audiences say that our uplifting film, filled with Dave's exquisite music, is the perfect antidote to the extraordinary stresses we are experiencing in this strange new pandemic world."
*** IMPORTANT – PLEASE READ ***
FREE for current SCL members (click HERE to check membership status).
Attendees will be emailed a Screening Link upon Registration and a Q&A YouTube Live Stream link on Thursday, October 15, 10 minutes before Q&A start.
Attendees can ask questions on YouTube chat, and the SCL Host will pass them on to the Moderator. The SCL Member Code of Conduct applies to online Q&As.