SCL Emmy® Reception 2019
September 13, 2019
|
6:30pm PDT
|
Emmy Reception
|
Special Events
THE SOCIETY OF COMPOSERS & LYRICISTS
cordially invites Gold, Platinum, and Diamond Members, and a guest to join them for
an exclusive reception 
in celebration of this year's
Emmy
®
Music Nominees
Honoring the 2019 Music Nominees for Primetime, Daytime,
and News & Documentary television programming
Friday, September 13th, 2019
6:30-9:30PM
Bistro Garden
12950 Ventura Blvd
Studio City, CA 91604
Attire: Festive Cocktail


Please be mindful of the SCL's Code of Conduct.
Complimentary Valet Parking:
Enter parking lot behind Bistro Garden off Van Noord Ave (see map below).
REGISTRATION REQUIRED by Friday, September 6th, 2019
Click here to Attend Event.

Diamond and Platinum members may bring
one (1) guest at no additional charge
Gold Members who wish to bring a guest may purchase
one (1) additional ticket for $100 (No Refunds)
Please be aware, that if you can't attend and don't cancel your RSVP
at least 24h before the reception, you will have restricted access
to further upper-level events such as the Oscar® Reception.

*** REGISTRATION INSTRUCTIONS ***
To access your Diamond / Platinum / Gold Member FREE Ticket(s):
Click
Enter promotional code
:


In the input field, enter your First and Last Name (NO SPACE)
then click
Apply
. Your FREE Member Ticket(s) will appear: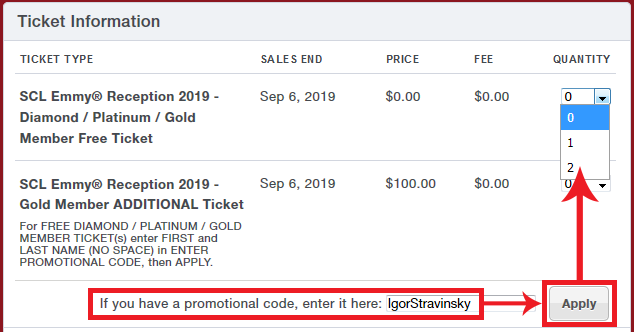 Gold Members Only: ADDITIONAL PAID Ticket (No Refunds):
Access your FREE Gold Member Ticket per instructions above,
then select Gold Member ADDITIONAL Ticket if bringing a guest: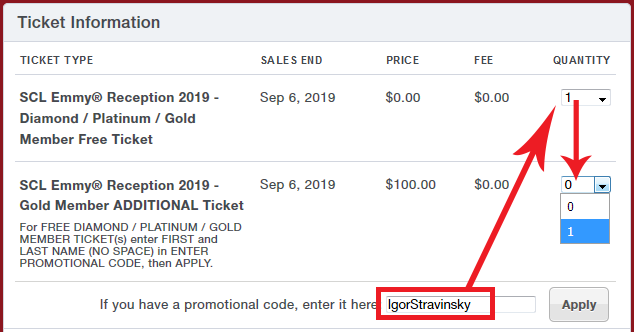 Please provide the First and Last Name of your guest.
Your guest MUST be with you at check-in.
All guests must be 21 or older.
This invitation is non-transferable.