SCL Screening + Q&A: ROYALTIES w/Darren Criss, Mark Hamill & Nick Lang
July 1, 2020
|
7:00pm PDT
|
Screening + Q&A
Creator, Actor, Executive Producer, and Songwriter
DARREN CRISS
Co-writer and Executive Producer
NICK LANG
Actor
MARK HAMILL
MODERATED BY PETE HAMMOND
Deadline
Screening Link Provided With Registration
YouTube Live Stream Q&A :
Wednesday, July 1, 7:00pm (PDT)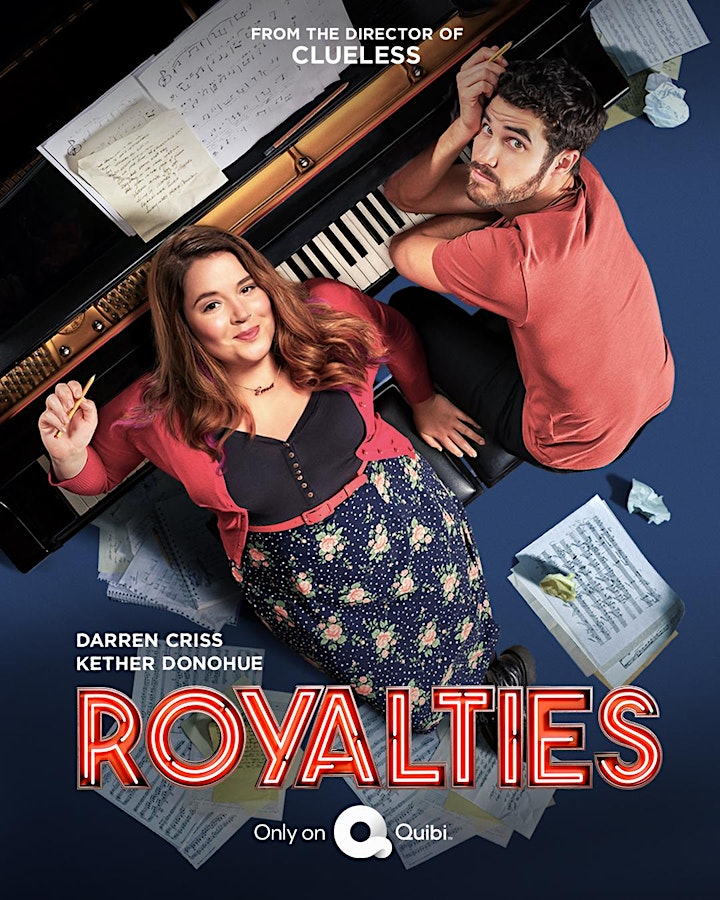 Royalties is a take on the oft-untold story of songwriters behind the world's biggest hits. It follows ragtag songwriting duo Sara (Kether Donohue) and Pierce (Darren Criss) as they navigate the strange and hilarious challenges of creating great songs for insane artists. TV-MA | 10min
Darren Criss is a multi-faceted artist with an illustrious career spanning television, film, music, and stage. His portrayal of Andrew Cunanan in Ryan Murphy's award-winning series American Crime Story: The Assassination of Gianni Versace was met with widespread critical acclaim, earning him a Primetime Emmy Award, Golden Globe Award, Screen Actors' Guild Award, and Critics' Choice Award. Known for playing Blaine Anderson on FOX's global phenomenon Glee, Criss received an Emmy Award nomination in 2015 for best original music and lyrics for the song This Time. As a songwriter, Criss released a five-track solo EP entitled Homework which debuted at #1 on Billboard's Heatseekers Album chart. He also wrote the music and lyrics for the Team Starkid musical Starship, which debuted at #1 on Billboard's Cast Album chart. In 2017, he introduced his indie-pop band Computer Games with his brother Chuck and released their first album Lost Boys Life EP. Computer Games was nominated as one of Macy's iHeartRadio Rising Stars. Criss can currently be seen in Quibi's Royalties, for which he serves as the creator, executive producer, and songwriter, as well as Netflix's hit-show Hollywood, for which he also serves as executive producer.
Nick Lang is a long-time collaborator of Darren Criss. Together they own StarKid Productions, through which Nick has written/directed/produced twelve-stage musicals (including A Very Potter Musical and the Hatchetfield series), and he is a writer & executive producer for Royalties. He has also written for Holy Musical B@tman, Black Friday, Twisted: The Untold Story of a Royal Vizier, Treasures of a Past Life, and A Very Potter Sequel.
Mark Hamill's career has encompassed all aspects of entertainment including stage, screen, television, and new media. He is best known as Luke Skywalker in George Lucas' original Star Wars trilogy. He returned to the role in J.J Abrams' Star Wars: The Force Awakens as well as in Rian Johnson's Episode VIII: The Last Jedi. Hamill also made his final appearance as Luke Skywalker in Star Wars IX: The Rise Of Skywalker. Other films include Corvette Summer, The Big Red One, Slipstream, Walking Across Egypt, Jay and Silent Bob Strike Back, Sushi Girl, Kingsman: The Secret Service, and Brigsby Bear. Hamill directed and starred in the cult mockumentary Comic Book: The Movie. Broadway credits include The Elephant Man, Amadeus (also First National Tour), Harrigan n' Hart, The Nerd, Six Dance Lessons in Six Weeks, and the Roundabout Theatre production of Room Service. A prolific voice-over artist, he has performed in countless television cartoons, feature films, and video games. Hamill first played the Joker in Batman: The Animated Series. He returned to the role in the Arkham Asylum video game series for which he received a BAFTA award & in the groundbreaking R-rated animated film, The Killing Joke. Earlier this year, Hamill appeared in Taika Waititi's second season of What We Do In The Shadows on FX.
*** IMPORTANT – PLEASE READ ***
FREE for current SCL members (click HERE to check membership status).
Attendees will be emailed a Screening Link upon Registration and a Q&A YouTube Live Stream link on Wednesday, July 1, 10 minutes before Q&A start.
Attendees can ask questions on YouTube chat, and the SCL Host will pass them on to the Moderator. The SCL Member Code of Conduct applies to online Q&As.