SCL Screening + Q&A: SOLAR OPPOSITES w/Chris Westlake
July 2, 2020
|
6:30pm PDT
|
Screening + Q&A
Composer
CHRIS WESTLAKE
MODERATED BY MIKE MCMAHAN
Co-Creator and Executive Producer
Screening Link Available Upon Registration
YouTube Live Stream Q&A :
Thursday, July 2, 6:30pm (PDT)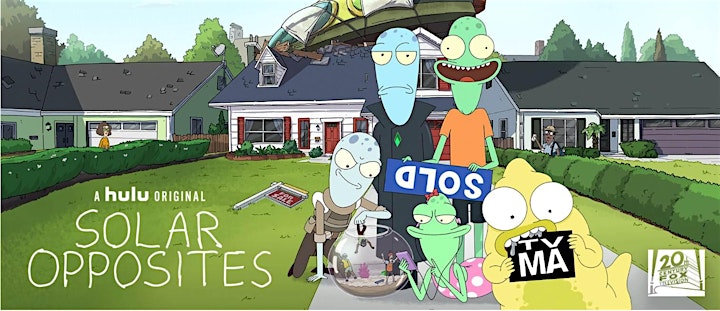 Co-created by Justin Roiland (Rick and Morty) and Mike McMahan (Rick and Morty), Solar Opposites centers around a team of four aliens who escape their exploding homeworld only to crash land into a move-in ready home in suburban America. They are evenly split on whether Earth is awful or awesome. Korvo (Justin Roiland) and Yumyulack (Sean Giambrone) only see the pollution, crass consumerism, and human frailty while Terry (Thomas Middleditch) and Jesse (Mary Mack) love humans and all their TV, junk food, and fun stuff. Their mission: protect the Pupa, a living super-computer that will one day evolve into its true form, consume them, and terraform the Earth.
Solar Opposites is executive produced by Roiland, McMahan, and Josh Bycel. The series is produced by 20th Century Fox Television. TV-MA | 30min
Chris Westlake is an American composer of electronic and orchestral music. He spent his teenage years studying classical and flamenco guitar with Celino Romero and Sharon Isbin, head of the guitar department at Juilliard. He is a graduate of USC's Thornton School of Music, where he studied Classical Guitar Performance.  In addition to his work on Hulu's hit animated series Solar Opposites, Chris was tapped by Thomas Newman to take over scoring duties for Bad Robot's Castle Rock. He is also known for his collaboration with Bad Robot on numerous Star Wars trailers, as well as feature scores for Small Town Crime (John Hawkes, Octavia Spencer) and Chris Evans' directorial debut, Before We Go. His previous animation work includes scoring several animated shorts for the Despicable Me franchise.
Mike McMahan is the co-creator, co-showrunner, and executive producer of Hulu's hit animated comedy series Solar Opposites, which was recently renewed for a third season after the show's debut was the streamer's most-watched original comedy premiere to date. Additionally, McMahan simultaneously serves as showrunner and executive producer on Star Trek: Lower Decks, an upcoming half-hour adult animated comedy at CBS All Access, which has a two-season order. Previously, McMahan was head writer and executive producer on Adult Swim's hit animated series Rick and Morty, sharing in the show's Animated Program Emmy® win in 2018.
*** IMPORTANT – PLEASE READ ***
FREE for current SCL members (click HERE to check membership status).
Attendees will be emailed a Screening Link upon Registration and a Q&A YouTube Live Stream link on Thursday, July 1, 10 minutes before Q&A start.
Attendees can ask questions on YouTube chat, and the SCL Host will pass them on to the Moderator. The SCL Member Code of Conduct applies to online Q&As.