SCL Online Screening + Q&A: THIS IS US
June 11, 2020
|
6:30pm PDT
|
Screening
SCL Online Screening + Q&A: THIS IS US w/Siddhartha Khosla & Taylor Goldsmith, moderated by Justin Hartley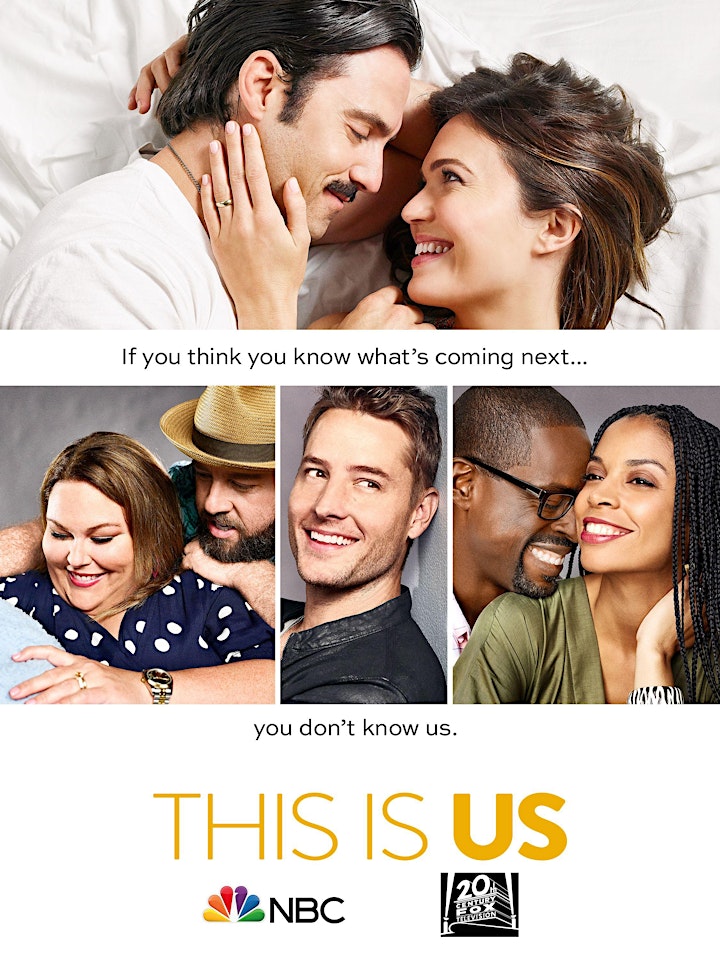 Composer
SIDDHARTHA KHOSLA
Songwriter
TAYLOR GOLDSMITH
MODERATED BY JUSTIN HARTLEY
Actor, This Is Us cast member
Screening Link available upon Registration
YouTube Live Stream Q&A:
THURSDAY, JUNE 11, 6:30PM (PDT)
CLICK HERE TO ATTEND EVENT
Everyone has a family. And every family has a story. This Is Us chronicles the Pearson family across the decades: from Jack (Milo Ventimiglia) and Rebecca (Mandy Moore) as young parents in the 1980s to their 37-year-old kids, Kevin (Justin Hartley), Kate (Chrissy Metz) and Randall (Sterling K. Brown) searching for love and fulfillment in the present day. This grounded, life-affirming dramedy reveals how the tiniest events in our lives impact who we become, and how the connections we share with each other can transcend time, distance, and even death. From the writer and directors of Crazy, Stupid, Love comes a smart, modern show that will welcome you into a family you feel you've known for years. TV-14 | 45 min
Siddhartha Khosla is an Emmy-nominated film and television composer, singer/songwriter, and producer of the critically acclaimed band, Goldspot. Khosla received a 2019 Emmy nomination for Outstanding Music Composition For a Series for his work on NBC's Golden Globe and Emmy-winning drama series, This Is Us. This nomination gives Khosla the distinction of being the first South Asian person to be nominated in the Primetime Emmys score categories. In addition to his score, Khosla also writes original songs for the series. We Can Always Come Back To This ranked #12 on iTunes Top 100 songs and earned Khosla an award nomination from the Guild of Music Supervisors for "Best Song/Recording for Television." Khosla co-wrote the song Invisible Ink with Taylor Goldsmith of the band Dawes, which Mandy sang on the show, as well as Memorized which skyrocketed to #1 on the iTunes soundtrack charts shortly after it was sung by Blake Stadnik's character in the premiere episode of the Season 4. Khosla's other credits include Marvel's Runaways; Hulu's Looking for Alaska; Netflix's hip-hop-themed feature Beats and ABC's The Kids Are Alright.
Taylor Goldsmith is the lead singer/songwriter for the band Dawes. Taylor's work has been widely recognized for his excellent story-telling and honest lyrics. Esquire Magazine called Goldsmith "The best young songwriter in America" and says of his songs "these are songs that don't just speak for themselves but accomplish something far rarer – they speak for us." Goldsmith draws influence from Bonnie "Prince" Billy, Bob Dylan, Leonard Cohen, Warren Zevon, and Jackson Browne, who Dawes have had the pleasure of playing with and who has called Taylor a "brilliant songwriter".
Award-nominated Actor, Producer, and Director Justin Hartley is currently making waves with season four of the critically acclaimed, Emmy-nominated NBC series This Is Us.  Justin's work as Kevin Pearson has earned him successive Critics' Choice Award nomination for Best Supporting Actor in a Drama Series two years in a row, and he and his cast members won both the 2018 and 2019 SAG Award for Outstanding Performance by an Ensemble in a Drama Series.  Additionally, Justin was able to bring his directorial skills to the table in season 4, directing one of the most heartfelt and deeply emotional episodes in the series to date (episode 413 – A Hell of a Week: Part Three). The media, fans, and Justin's own cast/crew have praised his directing work and he looks forward to directing additional episodes down the line. This Is Us airs Tuesday nights on NBC at 9/8c. He recently co-starred in the most talked about movie of the year, The Hunt, opposite Emma Roberts, Hilary Swank, Betty Gilpin, and Glenn Howerton.
When not working in front of the camera, Justin runs his production company ChangeUp Productions, and recently inked a pod deal with 20th Century Fox TV. Justin also has a huge heart for charity and is active in multiple organizations that support animal rescue across the nation.
*** IMPORTANT – PLEASE READ ***
– FREE for current SCL members (click HERE to check membership status).
– Attendees will receive Screening Links upon Registration and a Q&A YouTube Live Stream link on Thursday, June 11, 10 minutes before Q&A start.
– Only the SCL Host, Moderator, and Panelists will be visible on screen.
– Attendees can ask questions on YouTube chat, and the SCL Host will pass them on to the Moderator. The SCL Member Code of Conduct applies to online Q&As.