SCL Screening + Q&A: BASKETS w/Joshua Moshier & Mike Giambra
July 7, 2020
|
6:30pm PDT
|
Screening + Q&A
Composer
JOSHUA MOSHIER
Editor/Co-Producer
MIKE GIAMBRA
MODERATED BY TIM GREIVING
Film Music Journalist
Screening Link Available Upon Registration
YouTube Live Stream Q&A :
Tuesday, July 7, 6:30pm (PDT)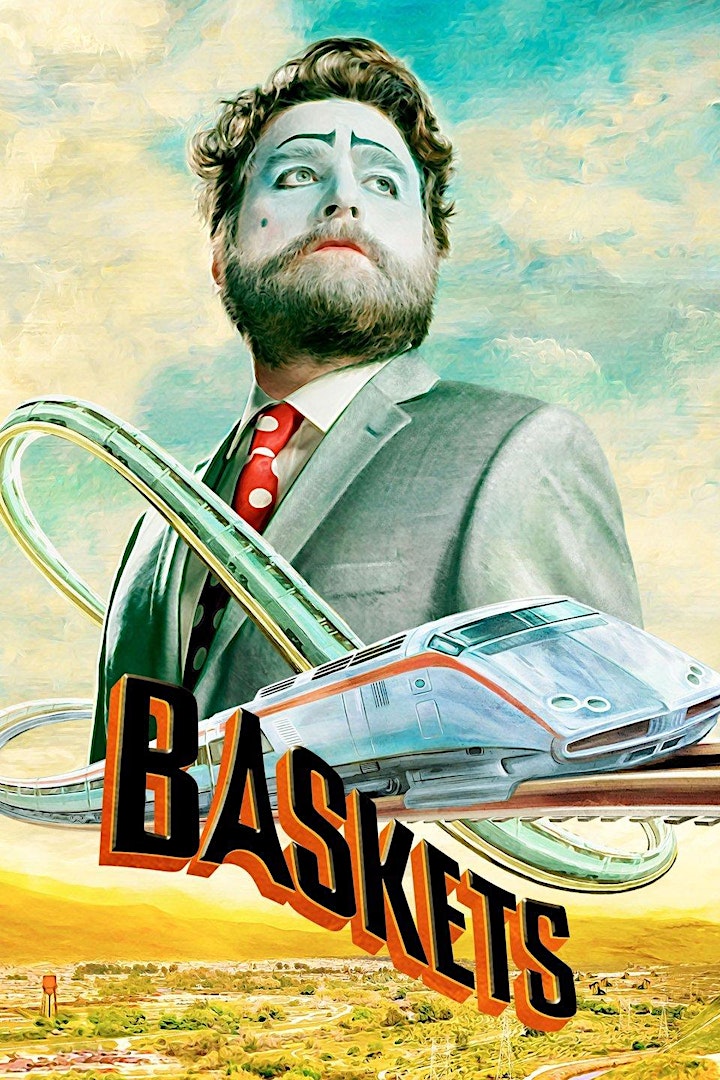 Chip Baskets (Zach Galifianakis) has always dreamed of being a classically trained clown. After flunking out of French clown college, he returns home to Bakersfield, CA, moves in with his mother Christine (Louie Anderson), bickers with his twin brother Dale (also played by Zach Galifianakis), and continues to pursue his dream with the help of his friend Martha (Martha Kelly). In season 4, big changes are underway for the Baskets family. After 49 years, Chip decides it's finally time to move out of his mom's place. But even with the help of a life coach, he learns that leaving the nest is hard, to say the least. The series is directed by Jonathan Krisel (Portlandia) and co-created by Krisel and Galifianakis for FX Productions. TV-MA | 30 min
The music of composer Joshua Moshier has been cited by the Chicago Tribune for "considerable lyric grace and compositional forethought." His scoresinclude Baskets (FX), Special (Netflix), Three Busy Debras (Adult Swim), Happy Anniversary (Netflix), Sick of It (Sky), and the main title to Documentary Now (IFC). He created the interactive ambisonic music for Google's Earth VR app, and is active in animation, scoring the How to Train Your Dragon-inspired series Dragons: Rescue Riders (Netflix) for DreamWorks and the antics of iconic characters Bugs Bunny & Daffy Duck for Looney Tunes Cartoons (HBO Max) from Warner Bros. Animation.
Mike Giambra is a Los Angeles-based TV/film editor who has worked on several comedy shows including FX's Baskets starring Zach Galifianakis, Nathan For You on Comedy Central, Portlandia on IFC, The Eric Andre Show, and Tim & Eric Awesome Show, among others.
His film work includes the Sundance entry I'm A Mitzvah starring Ben Schwartz, and the HBO mock-doc Tour De Pharmacy starring Andy Samberg. He is currently working on a new comedy series produced by A24.
*** IMPORTANT – PLEASE READ ***
FREE for current SCL members (click HERE to check membership status).
Attendees will be emailed a Screening Link upon Registration and a Q&A YouTube Live Stream link on Tuesday, July 7, 10 minutes before Q&A start.
Attendees can ask questions on YouTube chat, and the SCL Host will pass them on to the Moderator. The SCL Member Code of Conduct applies to online Q&As.